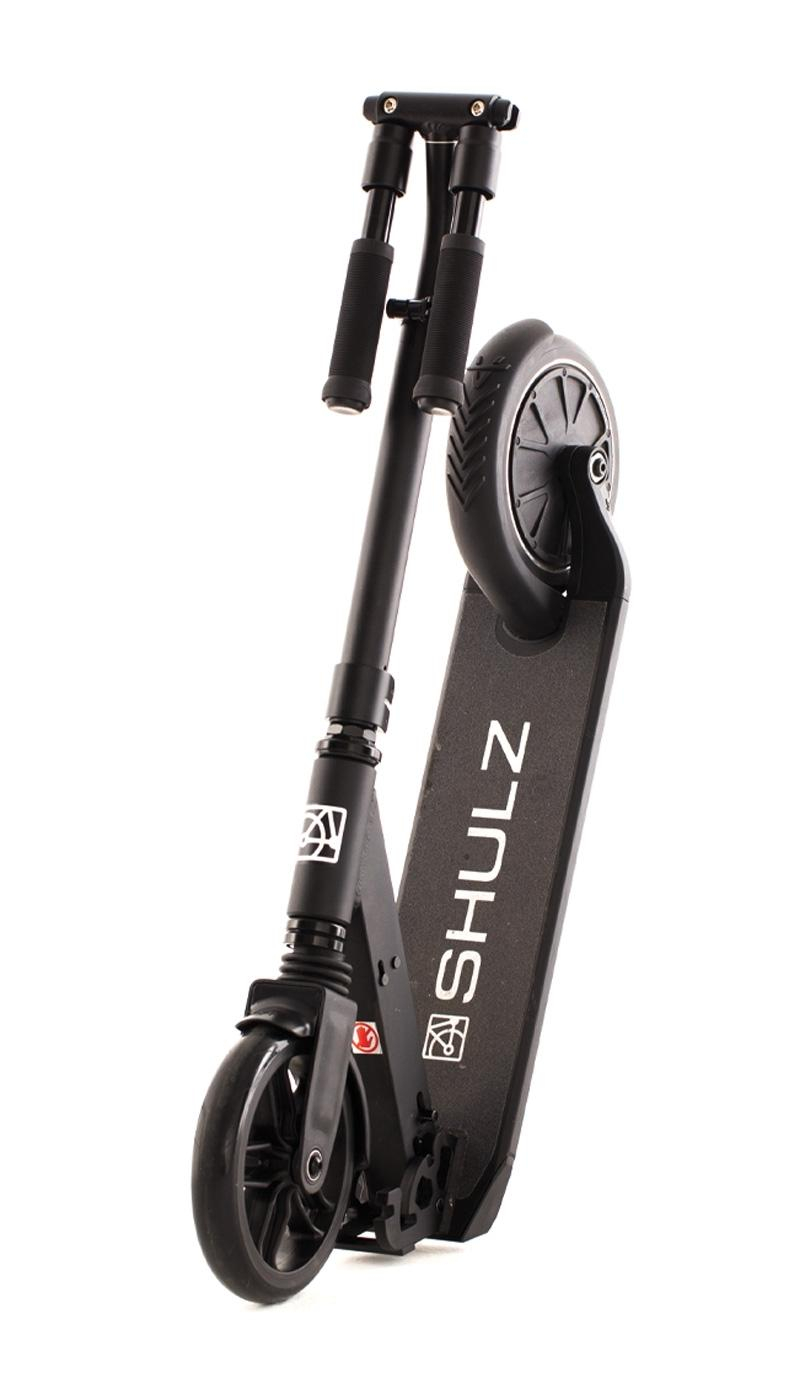 Shulz E200 Long Scooter
A perfect electric scooter for all ages.

Special features: light, compact and creative.
Technical characteristics
| | |
| --- | --- |
| Weight | 9 kg |
| Max. weight load | 150 kg |
| Age | 8+ |
| Battery | 2.9 Ah, Li-On "Lg" |
| Motor | Hub Motor 250W |
| Max. distance | 20 km |
| Max. speed | 25 km/h |
| Charging time | 1-2 H |
| Brakes | Hub Motor Brake |
| Materials | Alu |
| Wheels | High-quality rubber wheels 200 mm |
Looking for a vehicle to move for short distances within the city? Then the Shulz E-200 scooter is exactly what you need. This scooter is very light, just 9 kg, relatively small, folding and has sufficiently large wheels, which is why riding it is very comfortable and easy. The scooter also has two absorbers with which the sense of vibrations is reduced significantly. The scooter is made of aircraft-grade aluminum, accelerates to a speed of 20-25 km/h and the driving range during one charge makes 10 km. The scooter is equipped with the LG lithium battery and a hub engine of 250 watts. If you want to move fast through the city comfortably and without sweating or just have a ride at your leisure, this is the very model recommended to you. The distinguishing feature of this electro scooter lies in the fact that it has no throttle grip, and the engine determines itself what power to produce in accordance with the speed rate of movement. In other words, in case you have gathered speed up to 10 km/h, the engine keeps this speed, picks up power to 20 km/h and you make 20 km/h; in case you have slowed down a little, the engine throws off up to the speed rate you require. It turns out that this system adjusts the scooter to the rhythm of your movement.
Similar items
you have only to see